UL expands footprint in Bangladesh with 33,000-sq.ft. advanced textile and leather testing facility in Dhaka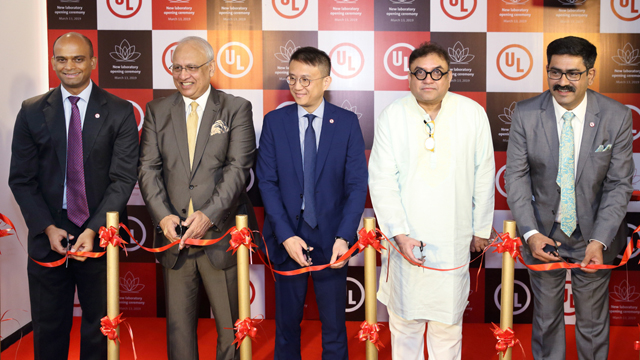 Press Release
New Consumer and Retail Services Laboratory offers end-to-end technology and service solutions at a single destination
Dhaka, Bangladesh, March 13, 2019:  UL, a global safety science leader announced the expansion of the company's footprint in Bangladesh with the inauguration of its new Consumer and Retail Services Testing Laboratory in Dhaka. The state-of-the-art, 33,000 sq.ft. facility provides advanced, end-to-end service solutions for the textile, apparel, leather and footwear industries at a single destination.
UL's pioneering facility seeks to foster innovation, increase market access and enable faster time to market by empowering customers to show compliance with the highest standards for quality and safety. The suite of services offered at UL's Consumer and Retail Services laboratory include a wide range of testing capabilities combined with solutions for inspections, factory and technical audit, chemical management, sustainability and social compliance for responsible sourcing. The facility is strategically located in the heart of Dhaka, along the Dhaka-Mymensingh Highway that is easily accessible for customers.
Sharing his views on how customers can benefit by partnering with UL, Mr. Sarbajeet Mukherjee, managing director of UL's Consumer and Retail services in South Asia, "Over the past decade since our inception in Bangladesh, UL experts have been supporting the retail industry with world-class testing services and technical expertise. With the global acquisition of Consumer Testing Laboratory in 2016, we are steadily consolidating our presence in the country to address the increase in demand from customers for quality testing services to meet rigorous compliance requirements. Our new innovative facility will enable us to help service our existing and potential customers better. The total solutions we offer here are designed to empower our clients mitigate market risk, strengthen global supply chains and protect brand reputation. We have developed leading edge customer service solutions like fast-track project and digital lab fulfilment systems to reduce lead times and ensure accurate, in-depth test results. Our customers can collaborate with us to test a variety of products as per global standards and regulations to get global market access (GMA) and increase their market share".
Commenting on the launch of the new laboratory Mr. Suresh Sugavanam, UL's vice president and managing director for South Asia and Sub-Saharan Africa said, "UL's investment in Bangladesh comes at a time when country is on an ambitious path to meet the export target of USD 50 billion from the apparel sector by 2021, to mark 50 years of the Republic of Bangladesh. Our team of multidisciplinary experts leverage the latest technologies, best-in-class equipment and engage in rigorous analysis of quality and safety parameters to help our customers launch winning products to the market in a cost effective manner".
UL's array of testing expertise for quality and safety assurance spans chemical, physical, mechanical,  colour fastness, fibre and flammability – performance and regulatory tests. Sustainability solutions to address chemical safety for environmental compliance include wastewater onsite assessments and testing solutions for Zero Discharge of Hazardous Chemicals (ZDHC) programme. UL brings over a century of experience in testing, certifying and inspecting fire, life safety and security products to cater to the needs of factory audits and inspection in Bangladesh.