UL and Jain University's Fire Testing Laboratory, the first-of-its-kind in India, receives NABL Accreditation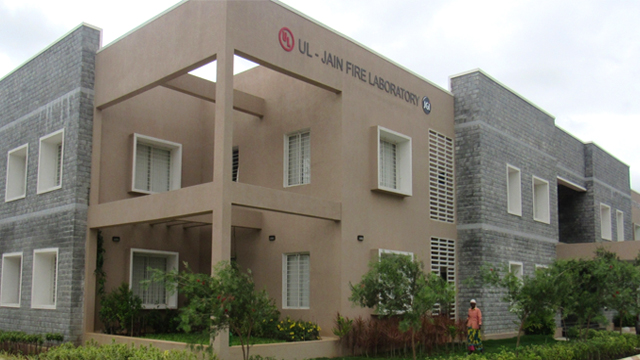 Press Release
Manufacturers of fire protection products now have access to world-class testing facility to meet the requirements of various regulatory programmes
Bengaluru, February 14, 2019:  UL, a leading global safety science company, announced today that the National Accreditation Board for Testing and Calibration Laboratories (NABL) has accredited UL's Fire Laboratory in India called UL – Jain Fire Laboratory(UL-JFL), the first-of-its-kind facility the company established as a joint venture  with the Jain University in 2016. NABL is an autonomous body under the Ministry of Science and Technology, Government of India that delivers third-party assessment of quality and technical competence of testing and calibration laboratories.
UL-JFL is located at Jain Group of Institution's Bengaluru Global Campus on Kanakapura Road. The facility is exclusively available to UL for testing of various fire suppression products, conduct fire safety programmes as well as for research and development (R&D). As per the terms of agreement, Jain University provides building and facility infrastructure while UL is the technical partner contributing to know-how, training, equipment, testing and 'qualification/recognition'. From inception, UL has enabled the testing of fire related products like firefighting foam concentrates and fire-extinguishing systems as per UL Standards.
With NABL accreditation, manufacturers of fire-related products can avail UL's internationally recognized expertise in testing to meet the requirements of various regulatory programmes and other testing requirements for the fire protection industry. Other advantages include faster turn-around time (7-15 days for tests involving aging of products, 3 – 5 days for basic tests) and UL's industry reputed services.
Compliance with Indian Standards increases the market access potential for manufacturers within the country for sectors like oil and gas, commercial real estate, airports, seaports and the hospitality sector, among others. While the BIS certification scheme is voluntary, technical bodies overseeing high-risk sectors, such as the Oil Industry Safety Directorate (OISD) mandates the ISI Mark, the certification issued by the BIS, for any fire protection product used within the premises of a plant.
According to TechSci Research, the market for fire and safety equipment in India is expected to touch USD 4.94 billion by the end of 2019. At present, there are approximately 100 BIS approved manufacturers in the country.
Commenting on the accreditation, Mr. Suresh Sugavanam, UL's vice president and managing director for South Asia and Sub-Saharan Africa said, "NABL accreditation is an important milestone in the growth of UL-JFL. As India undergoes rapid development of built infrastructure, ensuring fire safety through installation of certified fire protection products must go hand-in-hand with expansion of the built environment. By testing these products according to Indian requirements, UL–JFL can support the fire protection manufacturing community with globally renowned capabilities at affordable costs. With streamlined processes, UL-JFL can deliver faster time to market and customers can review progress of tests at their convenience. Our customers can also trust our services to gain greater market access."
About UL
UL fosters safe living and working conditions for people everywhere through the application of science to solve safety, security and sustainability challenges. The UL Mark engenders trust enabling the safe adoption of innovative new products and technologies. Everyone at UL shares a passion to make the world a safer place. We test, inspect, audit, certify, validate, verify, advise and train and we support these efforts with software solutions for safety and sustainability. To learn more about us, visit india.UL.com.
Source: BNN, Energetica