UL: Creating Safe, Secure and Sustainable Environments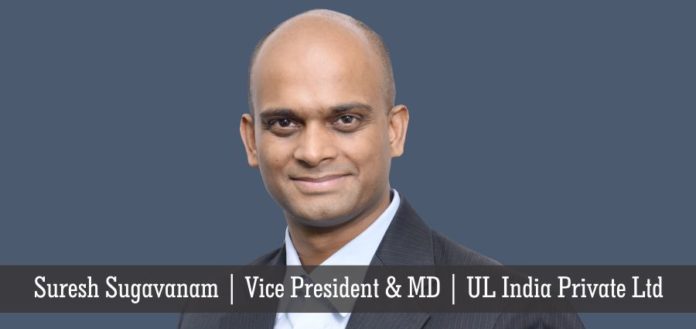 As a global leader in the testing, inspection and certification (TIC) industry with a rich legacy of 123 years, UL sets global benchmarks for safety, quality and performance of products spanning a wide range of industries. UL's internationally renowned authority in safety science has enabled its expansion to over a hundred countries worldwide. This reflects in its now two decades long presence in India.
UL in India is driven by the company's mission to make the world a safer, more secure and sustainable place. The company has worked relentlessly to craft and deliver on an 'In India for India' strategy; and has executed this ambitious plan through significant investment in building world class testing and engineering capabilities as well as developing bespoke solutions for addressing needs of manufacturers within the country. UL also has long standing relationships with the Government of India, and with leading academic institutions, with whom it undertakes pioneering research in topics such as solar energy and fire safety.
In more ways than one, UL's growth in India mirrors the changing policy landscape in the country. While India still has a long way to go to compete globally and improve quality and safety standards to match those of mature economies around the world, there has definitely been rapid progress in this regard over the past few years. It is heartening that the government and manufacturing communities are recognizing the importance of establishing safety and quality standards for the domestic market as well, rather than just focusing on the exports.
Through the Looking Glass – A History of UL
UL was founded in 1894 by William Henry Merrill, a 25 year old American electric engineer, who was commissioned by insurers to examine the safety of the electrical wiring in the 'Palace of Electricity', an exhibit at the World Columbian Exposition in Chicago that was held to mark 400 years of Christopher Columbus's discovery of the Americas.
Sensing the need for electrical safety and the market potential that electricity driven technology posed, Merrill's landmark experience at the World Columbian Exposition prompted him to form the Underwriters Electrical Bureau as an ode to his service as an insurance underwriter. The Underwriters Electrical Bureau was then renamed as Underwriters Laboratories in 1903. Merrill soon began the process of evaluating hazards and launched tests to set safety standards. UL published its first standard, "Tin Clad Fire Doors," in 1903. The following year, the UL Mark made its debut with the labeling of a fire extinguisher. In 1905, the organization established a Label Service for certain product categories that require more frequent inspections. UL inspectors conducted the first factory inspections on labeled products at manufacturers' facilities, a pioneering practice that defined the crux of UL's services.
Since Merrill's time, UL has expanded into an organization with 64 Laboratories, 160 testing and certification facilities serving customers in 104 countries. It has over 13,000 safety professionals spanning over 50 countries around the world. And it has expanded into various service verticals – serving the traditional fire & electrical equipment manufacturers to lighting & HVAC products, medical devices, high performance materials (e.g. plastics & composites), consumer technology products, consumer products (such as textiles, jewelry, toys, chemicals) to financial, transaction & cyber security – all with a singular mission: ensuring safe, secure and sustainable living and working environments.
How UL is Helping India in its Clean Energy Mission
As solar and wind energy technologies become more prominent in the energy mix globally, UL has developed an advanced suite of end-to-end services to address the safety, quality and performance issues of these technologies. It works with manufacturers, developers and utilities in minimizing risks and facilitating growth in their renewable energy investments. UL's services cover many areas in project development for planning and engineering, construction and commissioning, and operations and maintenance.
UL India can hence help the Indian renewable energy sector adapt to the highest standards. The company's laboratory at Bangalore was first private laboratory in India accredited to test MNRE requirements for PV components and systems. To support the wind industry, it provides on-site technical support that deliver quick, reliable results and reduced time-to-market, apart from offering safety, performance and function testing services for the assessment of wind turbines and wind turbine components. This has been possible through a couple of acquisitions (DEWI and AWS Truepower) – that UL did globally – and integrated locally. UL ensures that all these services provided comply with regional, national and international regulations and standards, and also meet the needs of insurers, developers and investors.
Apart from bringing its global experience in the renewable energy space to support the solar and wind energy sectors in India, UL has also taken a lead in identifying and offering solutions to demands that arise as green energy gains further ground in the country. Some of these areas include:
Through its participation in technical committees, UL engages with the MNRE and allied bodies like the SECI, NISE and NIWE  experience to devise a robust country-specific standards and conformity assessment framework.
In the energy industry, one of the biggest challenges until recently for UL was working in a sector that did not define minimum requirements to evaluate and assess the quality, performance and operational efficiency of equipment and installations as a whole. A worrying factor that UL observed was that there was a gap in understanding the long term implications of renewable investment – ultimately, for the clean energy program to succeed, it is not the amount of installations that matter but the quality of power output. Through various engagements with stakeholders, the company has consistently articulated these challenges and provided solutions to overcome them. UL believes that the recently announced move toward greater quality control in the solar sector is a welcome one.
Supporting agriculture through adoption of solar pumps
By circumventing the need for either electricity or fossil fuels like diesel to run irrigation pumps for the fields, solar based water pumps are a boon to farmers in the remote areas the country and are emerging as an important tool to invigorate the agricultural sector. UL has played a critical role in the large scale adoption of solar water pumping systems in India by helping to ensure that only the systems that meet the quality and performance criteria as defined in MNRE specifications are qualified to be installed in the country. UL's state of the art Solar Pump testing facility in Bangalore is capable of testing PV Modules, Pump Controllers and the pump assembly as a complete system.
Creating energy infrastructure for smart cities
Smart meters – With over 200 million smart meters installed either in operational or pilot processes in India, consumer concerns about potential safety & performance hazards associated with smart meters are increasing.Various utilities seeking to install energy meters, request the suppliers to submit type test reports from a BIS-accredited laboratory to ascertain compliance with the national standards of safety, accuracy and communications protocol. Identifying this need, UL in India has made an investment in a comprehensive testing facility dedicated to smart meters. Through the testing facility, UL will cater to the growing needs of certification in the advanced metering industry. UL in India intends to provide safety research and advisory services to key stakeholders, including utilities, regulators and non-utility users of smart meters.
Smart Grids – As an ever-increasing number of products and systems become interconnected, the need to verify interoperability between them prior to installation and use is a critical cost and time saver. UL provides testing and certification services for smart grid product and system interoperability, performance and security.
Exploring the Indian Energy Market with Innovation
In the renewables sector in India, UL is currently focused on driving multi-stakeholder effort to develop Indian standards for energy storage systems and support the burgeoning market for composite materials through its extensive suite of testing, certification and advisory services. To attain international repute and be sustainable in the long run, advanced manufacturing capabilities in expensive sectors like clean energy must be aided by certification programs, and this is what UL is striving to provide in India.
The UL 2900, launched in 2016 is an all-encompassing standard series to assess cyber security of network connected devices. Considering the ambitious Smart Cities Mission and the movement toward creating a digital economy, cyber security is becoming a priority area and UL is eager to lend its experience to devise standards and deliver solutions that are relevant to India.
Living the Public Safety Mission
As a company built on the core philosophy of promoting safety for all, UL's operations transcend business undertakings to encapsulate varied Not-For-Profit efforts. In India, the body of work under its NFP programme to advance public safety touches critical areas of road safety, fire safety and access to clean water.
Through collaborations with premier educational institutions, government agencies, industry bodies and other non profits, UL has, over the past few years, contributed profoundly to the understanding of fire hazards in India and ways to combat them. A prime example of this is the first of its kind fire façade test at IIT Gandhinagar to study the impact of fire on glass façade buildings. The National Fire Safety Council, which UL has been hosting over the past decade, brings several government and private stakeholders together to deliberate on improving fire safety mechanisms in the country.
In the road safety space, UL is dedicated to grooming youth to become safety ambassadors of tomorrow. A pioneering effort in this area is the enlightening, multipart safety quiz competition called 'The National Safety Science Quiz' that is conducted in partnership with NDTV. UL's safety education efforts are expected to reach more than 55,000 students from over 750 schools across 10 cities in India.
Through, its on-going partnership with the Safe Water Network that began in 2012,  UL provides grants and audits services that enable affordable and reliable access to clean water, thereby empowering communities to own and manage safe water systems. To-date, this crucial collaboration has brought clean to more than 600,000 people in rural Indian villages. 
UL's Vision for the Future
As India gallops into the digital arena with increased adoption of mobile telephony and internet access, UL will strive hard to create a safe digital ecosystem to ensure the safety and security of interconnected systems that span electricity grids to digital transactions.
Over the next few years, UL is also dedicated to work actively in changing the safety culture in the country by making ordinary consumers more safety conscious. While UL works primarily in the B2B space, it also wants to deepen its involvement in promoting safety awareness. After all, the products that they validate touch consumers lives directly and an increase in safety consciousness will lead to a 'demand push' scenario where consumers influence the acceleration of safety and quality legislations.
Steering the Success of UL in India
Suresh Sugavanam, Vice President and Managing Director of UL South Asia is steering the company's growth in India since 2013.
Having worked in high profile roles in global conglomerates like Suzlon, E&Y, Boston Consulting Group where he has dealt with the energy sector, Suresh's arrival to UL India has been timely. Suresh's strategies to propel the company's growth include expanding laboratory infrastructure, investing in technical and managerial upskilling, assimilating and bringing UL's global expertise to India, and to develop and offer locally relevant solutions. Thereby contribute to accelerating India's GDP growth – to address domestic and export needs. Suresh has also broadened the reach and impact of UL's not-for-profit mission leveraging Research, Outreach, Standards & Education on topics such as fire safety, road safety, quality and standards framework for the country.