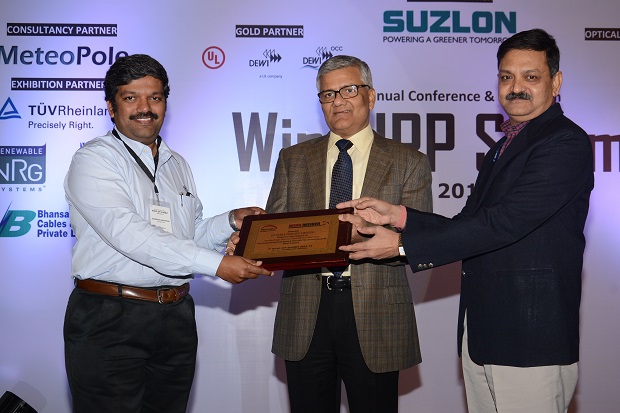 UL bags "Technology Service Provider of the Year" Award at the 4th Wind IPP Summit 2014-2015
UL DEWI received the "Technology Service Provider of the Year" Award in the 4th Wind IPP Summit 2014-15, held in New Delhi on November 13- 14, 2014. Instituted in 2011, the Wind IPP Summit 2014 is India's premier wind energy event which presents an international platform for the wind energy industry to showcase and demonstrate its latest products and services. The award was presented by Mr. Dilip Nigam, Director – Ministry of New and Renewable Energy. Mr. Rajnikanth Umakanthan, Business Head- Energy & Automotive Division ,UL South Asia received the award on behalf of UL.
The fourth edition of Wind IPP summit attracted leading wind energy experts, technology providers, policy makers, turbine manufacturers, financial institutions, investors, project developers, EPC firms, component and service providers.
During the summit, the "Wind Power Excellence Awards: Recognizing Excellence" were given to personalities, projects and products from companies that have been key influencers in the energy industry.
UL-DEWI was nominated under the category of "Technology Service Provider of the Year, where the eligibility criteria was based on:
New service initiation for the Wind Sector
Remarkable achievement in the year 2013-14
UL-DEWI offer services for technical expertise to turbine manufacturers, component manufacturers, project developers, utilities and other companies within the sector.
The company was adjudged the "Technology Service Provider of the Year", based on a first-of-its-kind test conducted for one of the largest turbine manufacturers in India. The test was conducted in compliance with guidelines laid down by the Central Electricity Authority of India (CEA).