Increased confidence in every tested firestop installation in India
Rather than wondering if your contractor used the correct firestop system and completed the installation properly, turn to a trusted source to receive the confirmation you need.
Firestop systems, fire-resistant joint systems and perimeter fire containment systems are critical to occupant safety in the event of a fire. To ensure a given system performs as planned in an emergency, utilization of proper components and installation is critical. UL's Firestop Inspection Service can assist by providing accurate and complete inspections the first time.
According to the National Building Code of India 2016 part 4, chapter 2.32, for through penetrations, fire stop assembly can comprise of firestop used along with the penetrant, penetration items (such as cables, cable tray, conduits, ducts and pipes) and their means of support through the wall or opening. This assembly should restore the fire resistance rating of the fire separating elements in terms of its integrity and/or insulation properties.
As per the NBC 2016 the space between the electrical cables/conduit and the wall/slab should be filled by firestop materials having a minimum fire resistant rating of 120 minutes. The shaft should be sealed at every floor with firestop materials having the same fire resistance as that of the floor. Also, any type of wiring (high, medium and low voltage) in the shaft and false ceiling should run in a separate cable tray and sealed with a firestop at each floor.
IS12458 is the Indian Standards for testing of firestop systems? You can find the answer in the comparison chart of other familiar testing standards below.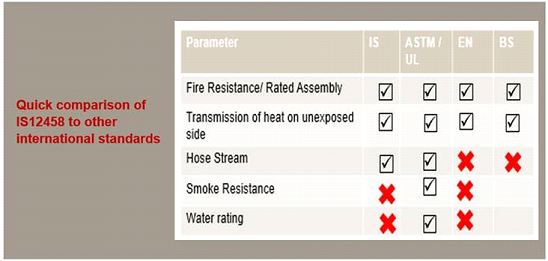 (Source : Hilti India Pvt. Ltd)
In addition to offering confidence through certification, UL is widely recognized with authorities having jurisdiction (AHJ), and has extensive experience in testing and listing firestop systems, and can help you understand the broader regulatory landscape for the building industry.
For more information, write to UL.indiamarketing@UL.com